Avoid Coinbase Fees By Using GDAX To Withdraw
Written by
CC Freak
on December 26, 2017
Coinbase fees can be high. If you withdraw your coins from Coinbase directly you will be charged a network transfer fee for your withdrawal. Currently, for Bitcoin, this can be a very high fee due to how congested the BTC network is. This guide will show you how to use GDAX to completely avoid paying this network transfer fee. If you have never used Coinbase before, check out my article here on how to get started: How To Buy Bitcoin, Bitcoin Cash, Litecoin and Ethereum.
Transfer To GDAX Before Withdrawing
GDAX is owned by Coinbase and is a P2P exchange where you buy directly from individuals instead of Coinbase. Currently, sending your coins from Coinbase to GDAX is instant and free. Once your coins are on GDAX, you can also withdraw them to your personal wallet without paying any network transfer fee as well.
How long this will last is not known but for the time being you can take advantage of it to avoid the costly Coinbase network transfer fee.
Move From Coinbase To GDAX
Moving from Coinbase to GDAX is simple. Simply open up GDAX and go to the coin that you wish to move and hit the deposit button. In the screenshot below we are moving Litecoin from our Coinbase wallet.

Simply decide how much you wish to withdraw and hit Deposit Funds.
Withdraw From GDAX To Your Personal Wallet
Now that your coin is on GDAX, transferring it out to your personal wallet is easy and free. Simply hit the Withdraw button and choose either BTC address, LTC Address, ETH Address or BCH address. You will need to fill out the amount and your wallet address as well as provide your security code (Usually your 2 Factor code). Once done hit withdraw and your funds should be on the way to your personal wallet with no additional fees!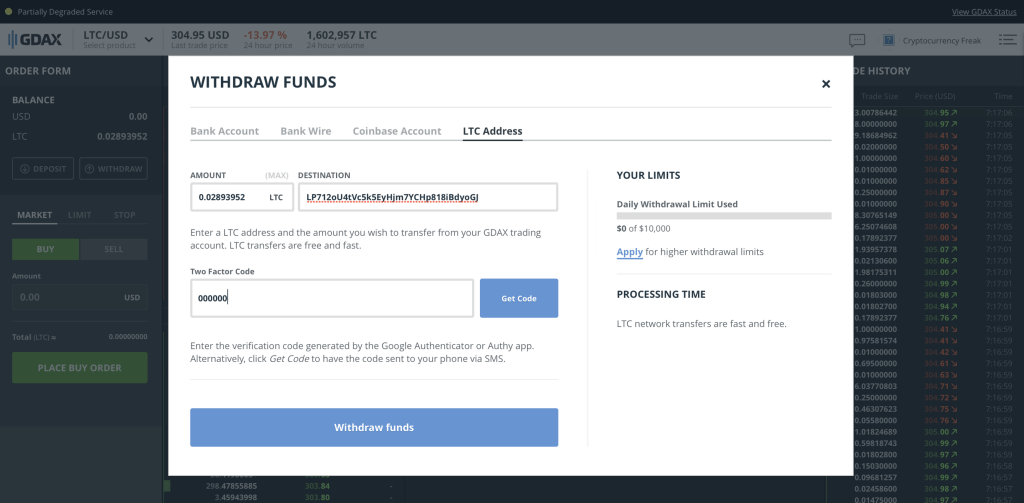 Now you have your coins in your own personal wallet and haven't paid any additional fees. If you found this article helpful and would like to buy me some coffee, check out my tip jar.
Topic tags: