Buying Monero isn't quite as simple as buying Bitcoin, Litecoin or Ethereum but it isn't complicated either. This article will be a quick guide on buying your first Monero. The way described below may not be the cheapest way but it will be the simplest way to currently go from your fiat currency to Monero if you have access to CoinBase.
For other ways to buy Monero and other useful information on Monero, check out this introduction guide here: https://www.reddit.com/r/Monero/comments/5zgail/rmonero_newcomers_please_read_everything_you_need/
Step 1: Buy Litecoin From CoinBase
Your first step is to buy Litecoin by creating a CoinBase account. Read my article here: How To Buy Bitcoin, Litecoin and Ethereum to get started with Litecoin. You will also receive an extra $10 in Bitcoin by using my link above if you buy at least $100 worth of Litecoin (or Bitcoin / Ethereum). Win win!
Now that you have read the above article, you should have Litecoin sitting in your CoinBase wallet.
Step 2: Move Litecoin To GDAX
CoinBase loves fees, so now that we have our Litecoin in our CoinBase wallet, we are going to move it from CoinBase to GDAX. GDAX is owned by CoinBase so moving to GDAX is instant and free. GDAX also does not charge any fees to withdraw to an external wallet.
Note: We are withdrawing to an external wallet because we are using ShapeShift.io to convert to Monero. CoinBase is notorious for slow transfers and ShapeShift requires a limited window (5 minutes as of writing this) to receive your coins once a transfer is setup.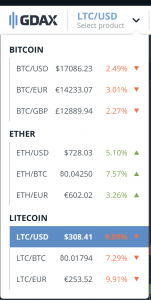 Open up GDAX and choose LTC/USD pairing from the upper left drop down like the image on the left shows.
Once selected, you will see a Deposit and Withdraw button. Choose Deposit and then choose the Coinbase account tab. You will now see the amount of LTC you have purchased. Since we are going to use all our LTC to buy Monero, copy and paste the amount of LTC from the left to the right and then hit the Deposit button. (See below)

You now have your Litecoin on GDAX!
Step 3: Transfer To External Wallet
There are many wallets that you can use but I am going to recommend Exodus.io. It is a multi coin wallet so if you decide to branch out to other coins later, there is a good chance Exodus will have that coin as an option.
Open up your Exodus wallet and choose Litecoin and click Receive. You should end up on a screen like below with your receiving address displayed (in my case: LP712oU4tVc5k5EyHjm7YCHp818iBdyoGJ
Now that you have your receiving address, within GDAX hit the withdraw button and fill out the information like below (using your Litecoin address, obviously).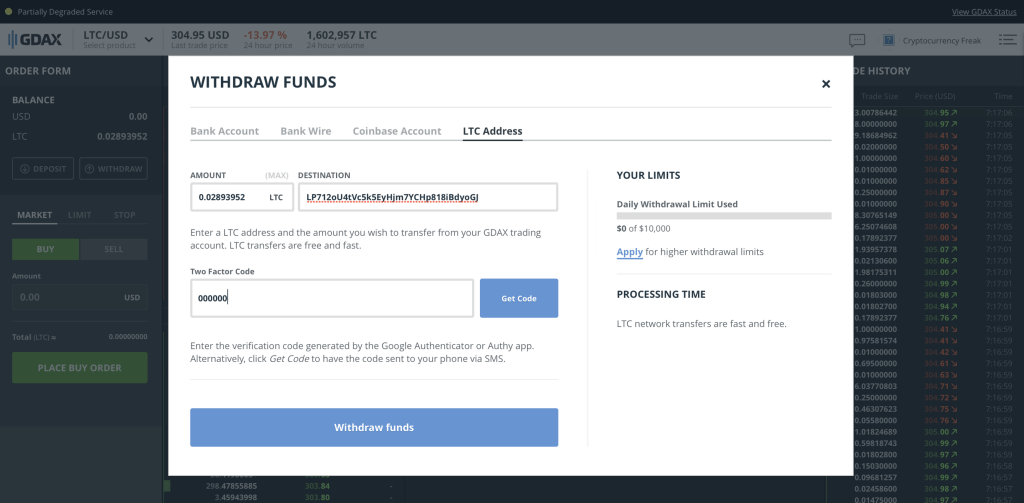 Hit withdraw and your Litecoin is now on your way to your wallet!
Step 4: Send your Litecoin to ShapeShift for Monero!
Now that you have your Litecoin in your Wallet the last step is to send it to ShapeShift.io to convert it to Monero. Open up ShapeShift and choose the setup below (LTC on left, Monero on right and then Precise) and then hit Continue.
Once you have hit Continue you will be presented with more fields to fill in. The first thing we need to do is figure out how much Litecoin we will be sending. I am going to assume you want to send all of your Litecoin from your Exodus wallet and change it out for Monero.
Bring up your Send window on Exodus and then click the All button. This will auto fill in your LTC amount and take into consideration network fees. Now that you have your LTC amount, copy it into the first field on ShapeShift.
ShapeShift will automatically do a conversion for you, showing you how much Monero you will receive for your Litecoin. Now we need to provide ShapeShift with your Monero address. Note: You can get your address from the official Monero wallet or you can setup a wallet on MyMonero. You can refer to the beginning of this article and read the Introduction Guide if you need more info on this step. You do not need to fill in the Payment ID field to receive Monero. Leave this field blank.
The last step is to provide your return Litecoin address in case something goes wrong and ShapeShift can not do the conversion for you. You can use any address you like but we will simply use our Exodus wallets Litecoin address that we used to receive Litecoin from GDAX.
Once everything is field out you should have something similar to below:
Click Start Transaction and then you will see the following:
Take the Deposit address given by ShapeShift and paste it into your Exodus wallet. Click send and now your Litecoin is n the way to ShapeShift. It should only take a few seconds before ShapeShift will see the transaction and start monitoring it. Just leave the window open and wait for confirmation.
Your Monero should be showing up in your wallet shortly! If any issues arise you can contact ShapeShift support with your Order-ID and they will take it from there.