Affordable 12 GPU Mining Rig: Monero, Vertcoin, Bitcoin Gold & Ethereum
When most people think of mining rigs they think expensive and top of the line video cards. Not all of us can jump right in and start buying the latest and greatest video card, especially in a situation where you want to use 12 of them. After a couple of weeks of research the following is what I decided to go with based on price, power consumption and hash rate to build my 12 GPU mining rig. I also took into consideration potential resale value and being able to mine many other cryptocurrencies.
The primary goal of this mining rig is to mine Monero and Aeon but this rig can be used to mine any cryptocurrency that performs well on Nvidia cards. Disclaimer: We are a participant in the Amazon Services LLC Associates Program, an affiliate advertising program designed to provide a means for us to earn fees by linking to Amazon.com and affiliated sites.
Note: This article does not go into the Operating System used but each rig will be powered by either SimpleMining OS or Linux. Windows has an 8 GPU Limit for video cards from the same manufacturer. SimpleMining OS and Linux do not have this issue. SimpleMining OS and Ubuntu guides coming soon.
Motherboard: Asrock H110 Pro BTC+ or ASUS B250 Mining Expert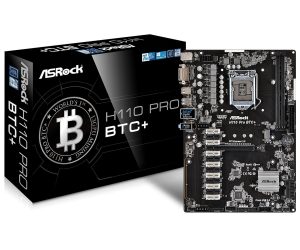 This is the brains of your whole operation. I recommend going with a motherboard that allows expansion. You could save a few bucks on a 6 GPU motherboard but then if you decide you want to expand you have to put together a whole separate new rig. These two motherboards are LGA 1151 and support 13 and 19 GPUs respectively. The ASUS B250 also has a very useful feature that helps you detect bad riser cards.
Processor: Intel Celeron G3900 or Intel Celeron G3930
The Intel Celeron G3900 and the Intel Celeron G3930 are very low power and the cheapest processors you can find for the LGA 1511 chipset. The difference is Sky Lake vs Kaby Lake. There is really only one cryptocurrency worth mining with a processor and that is Monero. If you want to pick out a better processor, feel free to research something with more power. With this rig, we are going purely GPU and low power on a decent budget.
Memory: Kingston Technology KVR21N15S8/4 ValueRAM 4GB 2133MHz DDR4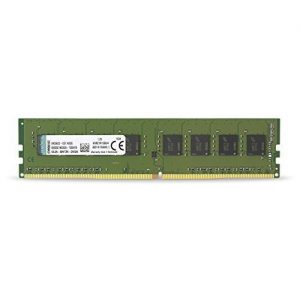 I have been able to run 12 GTX 1060 Gaming SC 6GB Video Cards on 4GB of cheap ram. This Kingston 4GB stick comes in at less than $40 and will do just fine for your mining rig.
Power Supply: EVGA 1000 GQ, 80+ Gold 1000W 210-GQ-1000-V1 (x2)

This may be one of the most important parts of your rig as it is going to be what keeps everything stable. Having enough power and having that power being available at an efficient rate is key. The video cards we are buying will mine Monero at around 84 watts meaning that all 12 video cards together will consistently need just over 1000 watts alone. For more GPU intensive currencies like Ethereum, expect the GPUs to be maxed out at their 120 watts for 1440 watts worth of power. This is, of course, taking into considering no overclock/underclock and under voltage. I am pricing you a mining rig that out of the box will be able to plug and play with room to grow with overclocking and newer video cards down the line. I think that this power supply will have you covered and at a reasonable price. Remember, you are going to need to order two of these for each mining rig!
If the above is out of stock, then this Thermaltake will fit in just fine: Thermaltake TOUGHPOWER 1000W 80 PLUS GOLD Semi Modular Power Supply PS-TPD-1000MPCGUS-1
Power Supply Adapter: Leboo Dual PSU Power Supply 24Pin ATX Motherboard Mainboard Adapter 24PIN Connector Cable Mining Extension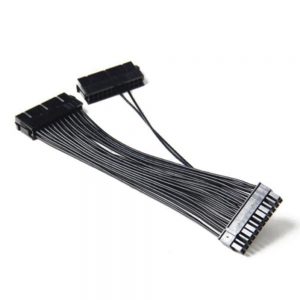 This adapter will allow you to connect both power supplies to your motherboard enabling you to turn on both power supplies when you turn on your computer.
This is important, as you want everything to turn on that the exact same time.
PCI 16x to PCI 1x Adapters: MintCell 6-Pack PCIe 4-Pin MOLEX PCI-E 16x to 1x Powered Riser Adapter Card (x2)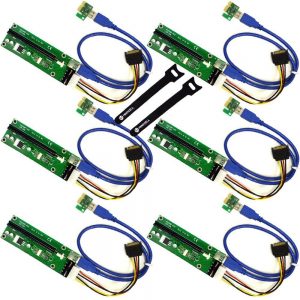 These riser cards allow you to connect all your PCI Express 16x video cards to your motherboard. You didn't really think all 12 video cards were going to neatly plug directly into the motherboard now did you? This is a 6 pack so if you are building a 12 GPU rig be sure to order two!
The above linked are Molex cards and allow you to easily use your Power Supplies molex cables to plug directly into the riser cards without the need for the Sata to Molex adapters.
Hard Drive: Kingston Digital, Inc. 120GB A400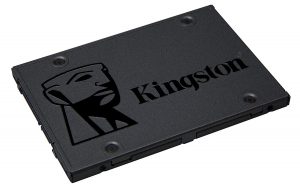 The hard drive is probably the least important part of your rig. You won't be storing a lot of data on here, just the Operating System of your choice (Get a Windows Pro key for only $14) and your miner files. This hard drive receives fantastic reviews and will have good resale value. Note: If you are running a Linux OS you can consider simply using a USB drive as well.
You now have a complete mining rig that is ready for you to add video cards to it. I will not be covering a case in this article because that is purely up to you on how you want to organize your machine. There are so many different cases out there and some people choose to not even use a case at all. With that said, lets get into the video cards.
Video Cards: Nvidia EVGA GTX 1060 Gaming SC 6GB, AMD Vega 56,  or AMD RX 580 (AMD cards are good for Monero, Bitcoin Gold, ZCash and Ethereum but not Vertcoin)
The Nvidia EVGA GTX 1060 Gaming SC 6GB card is, in my opinion, the best bang for the buck video card that you can buy right now. At 120 watts they are low power, requiring only one 6 pin connector from your power supply. My rig is primarily used to mine Monero and I am seeing around 550 h/s stable with a 750 mhz memory overclock. I am sure with more testing I can lower the power output even more but right now I am happy with the current output.
These cards are priced around $289-$300 USD on Amazon right now and you can pick them up used even cheaper. According to What To Mine you can expect the following from a 12 GPU GTX 1060 Gaming SC 6GB setup:
Ethereum: 270 Mh/s
Monero: 5160 h/s
Zcash: 3240 h/s
Vertcoin & Monacoin: 243.6 Mh/s
Also, remember, you do not have to buy all of the video cards at once. If you can only afford one, then simply start with one and start mining. Use your profits to keep expanding until you reach 12. If you only want to start out with 6 GPUs then you only need to buy one Power Supply to start with. This article was designed to be flexible for anyone starting out.
Hopefully if this doesn't fit your needs it can at least get you pointed in the right direction. For a link to all of the above in a Wish List simply click here: http://amzn.to/2iZcJ93
For a quick break down of how much you can expect to pay for the following rigs (based on pricing at time of writing September 5, 2017):
1 GPU Rig: $792

Ethereum: 22.5 Mh/s
Monero: 430 h/s
Zcash: 270 h/s
Vertcoin & Monacoin: 20.3 Mh/s

3 GPU Rig: $1,370

Ethereum: 67.5 Mh/s
Monero: 1290 h/s
Zcash: 810 h/s
Vertcoin & Monacoin: 60.9 Mh/s

6 GPU Rig: $2,237

Ethereum: 135 Mh/s
Monero: 2580 h/s
Zcash: 1620 h/s
Vertcoin & Monacoin: 121.8 Mh/s

9 GPU Rig: $3,331

Ethereum: 202.5 Mh/s
Monero: 3870 h/s
Zcash: 2430 h/s
Vertcoin & Monacoin: 182.7 Mh/s

12 GPU Rig: $4,198

Ethereum: 270 Mh/s
Monero: 5160 h/s
Zcash: 3240 h/s
Vertcoin & Monacoin: 243.6 Mh/s
Note that all estimated hash rates are at stock speeds so there is room for improvement.
AMD Vega 56
This article was written before the Vega 56 quality of mining was known. As of October 29, 2017, the Vega 56 is a great card to mine Monero, ZCash and Ethereum. My experience is only with Monero and a single Vega 56 can get over 1800 h/s. For more information on getting your Vega 56 to maximum hashrate, see this reddit post: https://www.reddit.com/r/MoneroMining/comments/74hjqn/monero_and_vega_the_definitive_guide/
Feel free to comment below with any questions or feedback! The best part about this article is that if you disagree with my video card of choice, everything else in this article should still apply to you. You will need to only calculate your total power needed for whatever video cards you decide to go with to make sure that the power supply I have selected will still fit your needs.